Prof.Dr.Teraporn Vutyavanich of Deep&Harmonicare IVF center Thailand was invited to the Thai Society of Reproductive Medicine's Academic Conference (TSRM)
From November 15th to 18th, 2022, the 26th Academic Congress of the Thai Society of Reproductive Medicine (TSRM) will be held in Bangkok,Thailand. This conference is an annual event in the field of reproduction.
As the chairman of the Thai Society of Reproductive Medicine, Prof.Dr.Teraporn Vutyavanich, the medical dean of our hospital, was invited to participate in the conference, and held a "sharing" on November 17, 2022 from 2:00 pm to 3:00 pm The experience of using Follitropin DELTA in Korea, how can we apply clinical evidence to clinical practice?" keynote speech.
Sharing Experience of Using Follitropin DELTA in Korea: How we apply the Clinical Evidence into Clinical Practice?
Speaker: Prof.Dr. Teraporn Vutyavanich,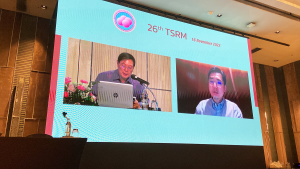 In line with the purpose of promoting the development of reproductive medicine in Thailand, improving the level of clinical diagnosis and treatment, and strengthening international exchanges and cooperation,
the conference invited representatives from Europe, the American Society of Reproductive Medicine, the International Federation of Reproductive Medicine, and the Asia-Pacific Society of Reproductive Medicine, the birthplace of the world's first IVF baby Hundreds of well-known experts and scholars including experts and scholars from countries such as the UK and China and international academic organizations and research institutions participated.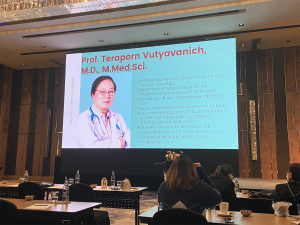 This conference focused on academic knowledge and research progress in the field of assisted reproduction. Prof.Dr. Teraporn and global authoritative reproductive experts discussed the current characteristics and difficult topics. Issues and future development directions are not only a bridge for academic collision and exchange and information resources exchange, but also a stage for mutual exchanges and joint discussions with fellow disciplines. The team of experts from DHC Reproductive Hospital in Thailand has enlightened the future development direction and practical work of the industry by participating in this conference.
---
Deep & Harmonicare IVF Center, is one of the few infertility center institutions with Joint Commission International (JCI) accreditation. It has a world-class advanced laboratory, which is praised as the "future central laboratory" by the healthcare ministry. We provide expert care using leading technologies that are targeted to each patient's individual needs. We offer a wide range of infertility treatments, all performed under international safety standards. Please do not hesitate to contact us.
Email: info@deepcareclinic.com
Facebook: Deep & Harmonicare IVF Center Global
YouTube: deep harmonicare
Instagram: @dhcivf.th
Line: @dhcivf.th
 Deep&Harmonicare IVF Center
About Author