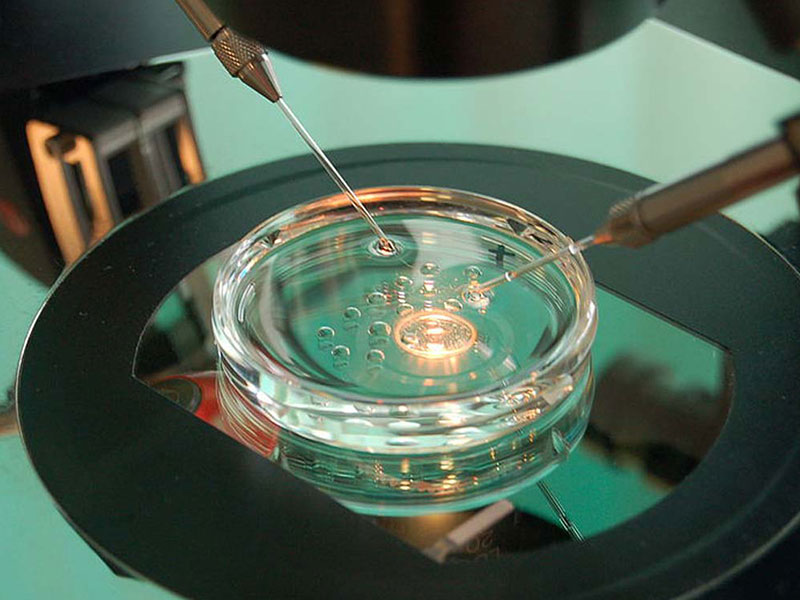 The difference between IVF and ICSI is how the sperm fertilizes the egg. In the IVF process, the egg and sperm are left in a laboratory dish to fertilize on their own. In ICSI process, the selected sperm is directly injected into the egg under the microscope.
ICSI give in satisfactory fertilization results and reduce problems with abnormal fertilization caused by eggs and sperm. There are the fertilization by multiple sperm and the inability of the sperm to penetrate the eggs and fertilize, etc.
First step, ultrasound scan and hormonal blood test are performed in day 1-3 of your period. Then. The female has received ovarian stimulation about 8-10 days to acquire multiple good quality eggs, doctors will collect eggs. The eggs will be transferred to a culture media and kept in an incubator. After waiting the eggs to mature for the right amount of time, the embryologist will inject the sperm to the egg directly. Fertilization will be checked 16–18 hours later. And embryos will be developed in the incubator until the blastocyst stage (day 5-6)
Embryo Transfer procedure
Embryos may be transferred anytime between day 3 and day 5 after the retrieval of the eggs, depending on the individuals' condition. Embryos can be "fresh," that is, created from fertilized egg cells from the same menstrual cycle, or "frozen," that is, created in a previous cycle and cryopreserved, and then thawed just before transfer, which is known as "frozen embryo transfer" (FET).
The success rate of IVF/ICSI
In general, IVF/ICSI success rates are 50-70%. It depends on many factors :
The female age
The quality of egg and sperm
The quality of embryo and embryo abnormality
Endometrial thickness on the date of embryo transfer
The abnormality of uterus and endometrium
Women with blocked or damaged fallopian tubes
Women with ovulation disorders (PCOS)
Women with endometriosis/Adenomyosis
Individuals with a genetic disorder
Male factor infertility including decreased sperm count or sperm motility
Unexplained infertility.
It's the method with the highest chance of success nowadays.
Can be treated for a variety of problems.
It can be done even after a tubal ligation.
It can be done even with low sperm motility.
Genetic testing (NGS) of the embryo can be done.
Cost more than IUI.
There are more complicated steps.
Takes several days.
In some cases, there may be complications from egg retrieval, such as flatulence.
Q: How do I know if I need IVF treatment?
A: IVF is generally a procedure for those who have had other methods of treatment that have not worked. However, people with certain medical conditions who cannot conceive may use IVF. They should consult their doctor for an assessment of their condition and a proper treatment plan.
Q: What do I need to check before ICSI?
A: For the best results, both men and women are required to undergo a medical examination before starting procedures such as blood tests to screen for diseases that are passed on to their children, semen analysis, and ultrasound examination to assess the female reproductive system.
Q: How much does IVF cost?
A: The cost of IVF is not the same for each person. Depending on the dosage and medication used for ovarian stimulation, embryo culture, the cost of operating rooms used for egg retrieval and embryo transfer, and blood tests or ultrasounds to follow up at various stages IVF for one cycle may cost about 200,000–350,000 baht.
Q: Are children born using assisted reproductive technology different from those born naturally?
A: According to studies abroad, children born through assisted reproductive methods are no different from those born naturally.
Q: Who is ICSI suitable for?
A: Suitable for people who have had problems with infertility, have been married for many years, and have tried other treatments such as IUI many times but have not been pregnant. Couples older than 35 years, sterile men, less semen, weak sperm, women with uterine problems, narrowed fallopian tubes, and people with certain health problems, such as people with polycystic ovary syndrome (PCOS).
Q: Is it better to transfer fresh or frozen embryos?
A: Usually, frozen embryo transfer has a greater chance of success than fresh embryo transfer because the patient can have time to prepare the uterus before the embryo transfer.
Q: Will extracting cells from the embryo for chromosome testing affect the child's future disability?
A: No effect because the cells taken for examination are the cells that will grow into the placenta and not the cells that will grow into the child.
Q: Why is it necessary to culture the embryo externally for 5 days, if it is longer (e.g. 6-8 days) will it be better?
A: 5-day embryo culture (blastocyst stage) to screen for embryos capable of naturally growing and dividing cells. And to be able to select the embryo that grows according to the criteria and is of good quality to be transferred back into the uterine cavity. The reason for not culturing the embryo for more than 5 days (6 days at most) is because after the 5th day, naturally, the embryo begins to implant in the uterine wall.