Geri® Pregnancy-rate-boosting technology
The Geri time-lapse incubator uses cutting-edge technology to individually manage the culture conditions in each chamber, creating a safe and ideal environment for the development of embryos.
Geri®  was developed to facilitate improvements in the regulation of optimal stability conditions. These conditions include temperature, gas management, warning functions, and light exposure. Geri enhances the likelihood that the embryo will grow into a healthy baby and be delivered safely by using this innovative technology.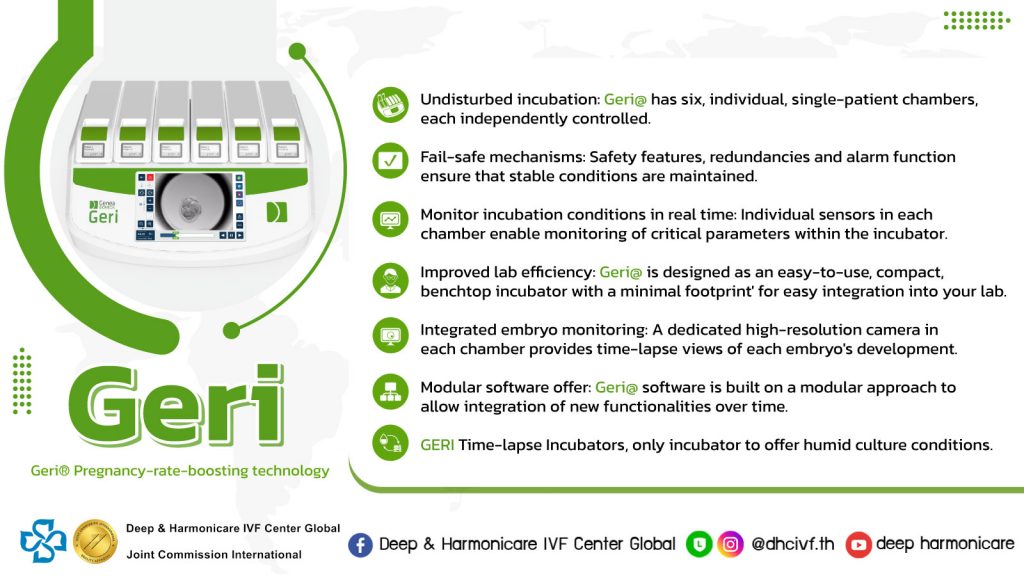 Effectiveness of the Geri incubator
Undisturbed incubation
The Geri incubator includes a total of six independent chambers, each of which is capable of functioning autonomously for a single patient. This ensures that the embryo's development does not become hampered.
Fail-safe mechanisms
Geri® is designed with multiple layers of fail-safe and a built-in alert system to guarantee that consistent environmental conditions are maintained for the developing embryo.
Monitor incubation conditions in real time
Within the incubator, individual sensors located within each chamber provide accessible to monitor important parameters.
Improved lab efficiency
Geri® was developed to be an easy-to-use, compact, benchtop incubator with a low footprint' for the purpose of facilitating simple integration into your laboratory.
Integrated embryo monitoring
A dedicated, high-resolution camera is installed in each chamber to capture time-lapse images of the embryos' development. An embryologist is able to meticulously observe and evaluate an embryo at every stage of its development.
Modular software offer
The Geri software was designed with a modular approach to facilitate the addition of additional features and capabilities over time.
Humid culture conditions
Geri® Time-lapse Incubators are closed environments that provide humid culture conditions that are intended to be as similar as possible to those the embryo would encounter in vivo. This reduces the probability that the embryo will experience substantial developmental disruptions.
———————————————————————-
Deep & Harmonicare IVF Center
 is one of the few assisted reproductive institutions with Joint Commission International (JCI) accreditation. We have a world-class advanced laboratory, which is praised as the "future central laboratory" by the healthcare ministry. We provide expert care using leading technologies tailored to each patient's needs. We offer a wide range of infertility treatments performed under international safety standards. Please do not hesitate to contact us.
Email: info@deepcareclinic.com
Deep & Harmonicare IVF Center
About Author