What you should know about twins
What are twins born from?
Mothers now have a better chance of conceiving twins. There is a higher chance of pregnancy and success because ICSI (Intracytoplasmic Sperm Injection) is a medical technology for infertility. To increase the chances of success, the doctor will typically insert two or more embryos. This increases mothers' chances of having twins.
Twins are usually considered abnormal pregnancies. Miscarriage is extremely likely.
Twin babies, on the other hand, have a better chance of survival thanks to modern technology.
Mothers who the age over 35 are more likely than younger mothers to become pregnant with twins. As estrogen levels rise, the body is stimulated to produce more eggs. FSH (Follicle Stimulating Hormone) is a hormone that stimulates ovulation and increases the chances of having twins.
A mother who has previously given birth to a child has a higher chance of conceiving twins, and if family members have a history of twin pregnancy, the chances of a mother giving birth to twins are also higher. It is passed down from mother to daughter. as well as pregnancy from two different eggs

Mothers who want to have twins should consult with their doctor about twin pregnancy options. Ovulation stimulants are commonly used to stimulate more than one ovulation, increasing the likelihood of twin pregnancies.
There are 2 types of twins?
Identical Twins
Due to the fertilization of a single egg and a single sperm separated into two parts, it has the same appearance and indistinguishable shape, in true twins have very similar appearances and characteristics and are usually of the same sex, such as male-male twins or female-female twins.
Fraternal twins
This is caused by the presence of more than one egg, and each egg is fertilized and implanted in the uterus simultaneously. Artificial twins usually resemble subsequent siblings, whereas artificial twins can be of the same or different sex.

What are the advantages of having twins?
In fact, in the nature of the mother's uterus, it is more appropriate to conceive a single pregnancy. Multiple pregnancies may cause miscarriages and preterm births, preeclampsia, or diabetes during pregnancy than a single pregnancy, but some people may think that having a single pregnancy can save more time than a few pregnancies. Most doctors recommend more single pregnancies, but putting 2 embryos in may be done to give pregnancy a chance of one embryo transfer. There's more than just putting one embryo at a time.
How to take care of your twins pregnancy 
Mothers with twin pregnancies must get enough rest. and take care of their health more than the average pregnant mother. Don't worry or worry too much. In order to be physically and mentally healthy, and during pregnancy, do not work hard, as there may be a risk of miscarriage, and if there are any abnormalities such as headache, extreme swelling, tightness of the stomach, you should see a doctor immediately.
Take it in moderation and be useful.
Mothers with twin pregnancies should be provided with wholesome foods, including meat dishes. Fresh fruits and vegetables, milk, and calcium should eat more wholesome foods because the body needs more nutrients, minerals, and vitamins, especially iron, and should refrain from starchy and sugary foods as this will cause obesity.
Antenatal care should be performed with an obstetrician-gynecologist specializing in the mother and fetus.
Mothers with twin pregnancies should be closely and regularly supervised by an obstetrician-gynecologist specializing in maternal and fetal conditions. To undergo rigorous screening and surveillance for serious complications such as preeclampsia.      It provides care from pregnancy to the safe process of childbirth.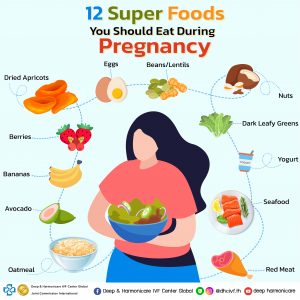 ———————————————————————
Deep & Harmonicare IVF Center Global
 has JCI International Medical Standards and UK NEQAS UK Laboratory Accreditation. We have the most advanced laboratory equipment in the world. We can provide patients with a higher success rate. We are always ready to provide you with service and professional medical consultation. Please do not hesitate to contact us.
Email: info@deepcareclinic.com
Facebook: Deep & Harmonicare IVF Center Global
YouTube: deep harmonicare
Instagram: @dhcivf.th
Line: @dhcivf.th
 Deep&Harmonicare IVF Center
About Author