Mother Who Gives Birth to Four Babies Goes Viral on Social Media
The goal of most couples is to have a happy family. Having a child as expected, especially with a twin pregnancy, is another desire to take into consideration when delving deeper into a couple's goals. Today's celebrity couples frequently have adorable twins, and many families yearn for the same. As a result, there is a growing desire to have more twins; however, not everyone can. According to the findings of the study, there is a 1 in 250 chance of becoming pregnant with twins or a 1% chance of giving birth to twins naturally. Because a multiple pregnancy necessitates a number of factors, having twins can be compared to winning the lottery—getting two children at once; however, some couples may receive more than twins. However, what exactly are twins? How many different types of multiple pregnancies are there?
What is a multiple pregnancy?
A pregnancy with multiple fetuses in the womb is referred to as a "multiple pregnancy." If there are twins (two fetuses), triplets (three fetuses), and quadruplets (four fetuses), having more than two fetuses is referred to as "higher-order multiple gestations."
What are the various kinds of multiple pregnancies?
Multiple pregnancies are divided into two types:
Identical Twins
"Identical twins", also known as Monozygotic Twins, are formed from a single fertilized egg that divides into two embryos during cell division. The embryos develop into fetuses with identical genetics. Identical twins have an apparent resemblance and are always of the same gender, whether male-male or female-female. When a fertilized embryo is implanted in the uterus and divides into another embryo, identical twins develop.
Fraternal Twins
"Fraternal twins" are formed when two ovulated eggs are fertilized with different sperm and develop into embryos or fetuses in the woman's womb during the same pregnancy.
Because this type of twin is fertilized by separate eggs and different sperm, the fetuses may or may not be of the same sex and appearance. Fraternal twins are formed when more than one egg is ovulated, and each egg is fertilized and implanted in the uterus. They are additionally referred to as non-identical twins or dizygotic twins, which means "two cells" or "from a separate egg."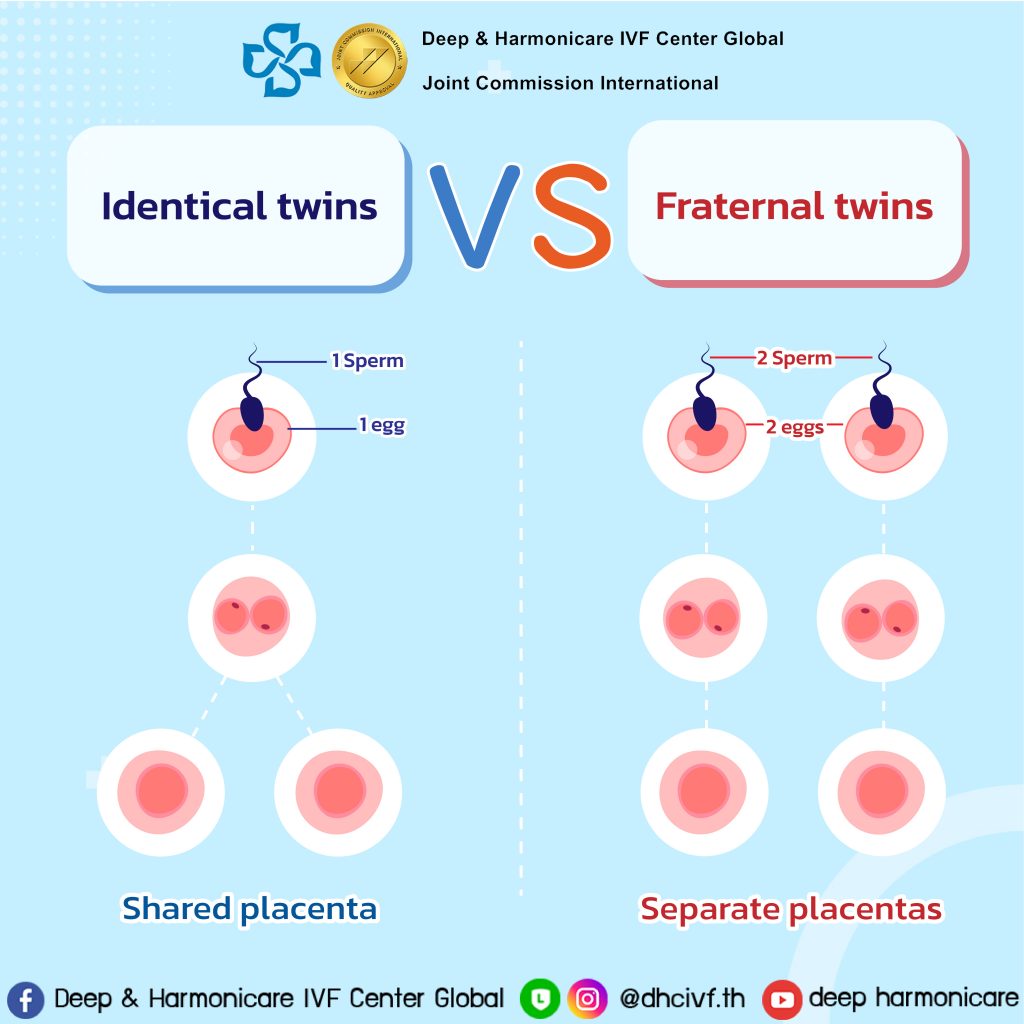 How to get pregnant with twins?
According to the findings of the study, twin pregnancies occur in about 1 in every 250 pregnancies. In other words, the chance of naturally occurring twin pregnancies is only 1 percent.
On top of that, the results show that the current tendency to have twins is rising. From 1980 to 2009, American women had a 75 percent higher rate of twin pregnancies in the United States.
Women with past experiences of fertility treatment are considered to be the most likely to become pregnant with multiple pregnancies. If the following factors are involved, the chances of being pregnant with twins increase:
Twin pregnancies run in the family. 

Pregnancy in old age or after the age of 30 has a higher risk of becoming a twin pregnancy.

Women who are overweight have a higher chance of conceiving twins. Estrogen levels will rise, particularly if they have a lot of body fat. As a result, during ovulation, the ovary is stimulated to produce more than one egg.

Women who have previously received infertility treatment have used fertility medication and had their ovaries stimulated to produce more than one egg during ovulation.

Women who have undergone assisted reproductive technologies such as in vitro fertilization (IVF), intracytoplasmic sperm injection (ICSI), and intrauterine insemination (IUI) to increase their chances of becoming pregnant and having twins.

Deep & Harmonicare IVF Center recently achieved success in the case of a mother who gave birth to quadruplets using intrauterine sperm injection (IUI).

Today, we would like to request permission to use Mother Pang's case as an example for everyone. Initially, the mother, a 30-year-old woman with infertility issues who had been trying to conceive for nearly two years, chose to receive treatment at DHC IVF Center. She had her first intrauterine insemination (IUI) treatment with Deep & Harmonicare IVF Center and became pregnant with quadruplets. The babies are identical twins (two eggs dividing into two more). Dr. Wasin Naknam, a reproductive medicine specialist at the DHC IVF Center, is supervising this case. Congratulations! You can watch a successful story video of this success case:

Full story video: https://www.youtube.com/watch?v=wUbDzJGoQi8

Short story video: https://www.youtube.com/watch?v=wXWVygvK2ro

YouTube: deep harmonicare  
There is no set formula for twin pregnancy success, and there are no hard and fast rules. Pregnancy is determined by an individual's physical condition and family history. However, the primary thing you should do is consult with an experienced specialist to assess your physical condition, risks, and the probability of having twins. Furthermore, it is critical to select a standardized and experienced fertility clinic, especially if you undergo treatment for infertility with assisted reproductive technologies such as ICSI, IUI, and IVF, to avoid possible side effects from multiple pregnancies.
Intracytoplasmic Sperm Injection (ICSI) is the process of injecting a single sperm into an egg and then waiting for fertilization. The embryo is then implanted in the uterus.
Intrauterine Insemination (IUI) is a sperm injection into the uterus. In an effort to boost the likelihood of pregnancy in infertile women, embryologists will only choose healthy sperm and inject it into the uterine. Twin pregnancies can happen as a result of this method 10-15 percent of the time.
Deep and Harmonicare IVF Center has numerous examples of successful infertility treatments that have resulted in multiple pregnancies, identical twins, and artificial twins. #SampleofsuccessbyDHCIVFcenter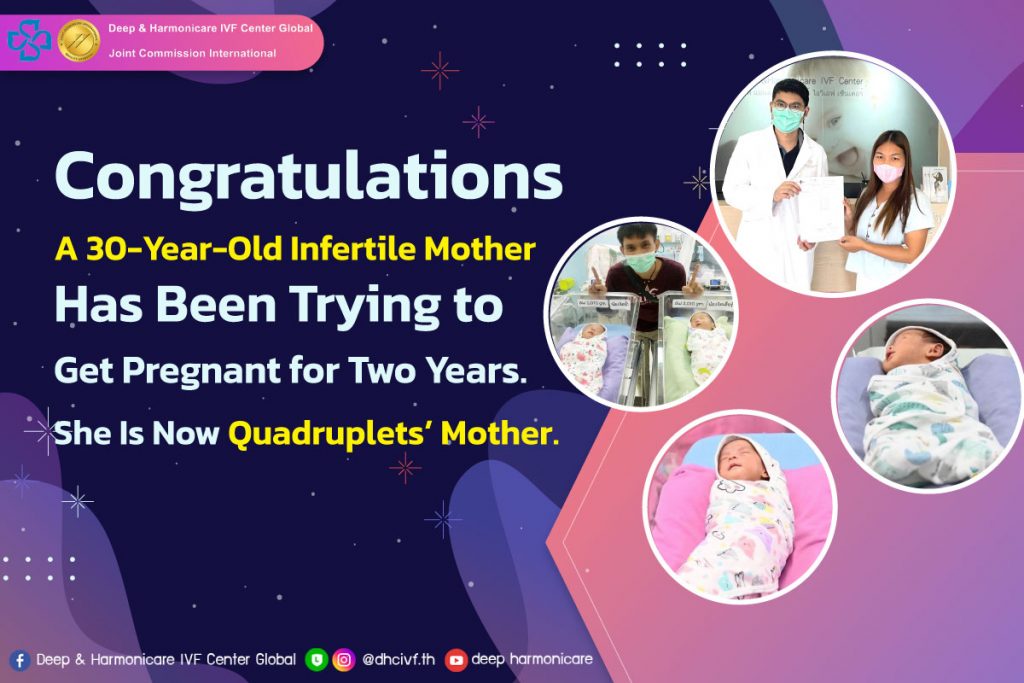 ————————————————————————–
Deep & Harmonicare IVF Center (DHC) is one of the few assisted reproductive institutions with Joint Commission International (JCI) accreditation. We have a world-class advanced laboratory, which is praised as the "future central laboratory" by the healthcare ministry. We provide expert care using leading technologies tailored to each patient's needs. We offer a wide range of infertility treatments performed under international safety standards. Please do not hesitate to contact us.
Website: https://dhcivfthai.com
Email: info@deepcareclinic.com
Facebook: Deep & Harmonicare IVF Center Global
YouTube: deep harmonicare
Instagram: @dhcivf.th
Line: @dhcivf.th
Deep & Harmonicare IVF Center 
https://goo.gl/maps/unBQie5wSkkSU1eNA
About Author